Original CatDisplay for Yaesu FT-817 FT-817ND with new HUD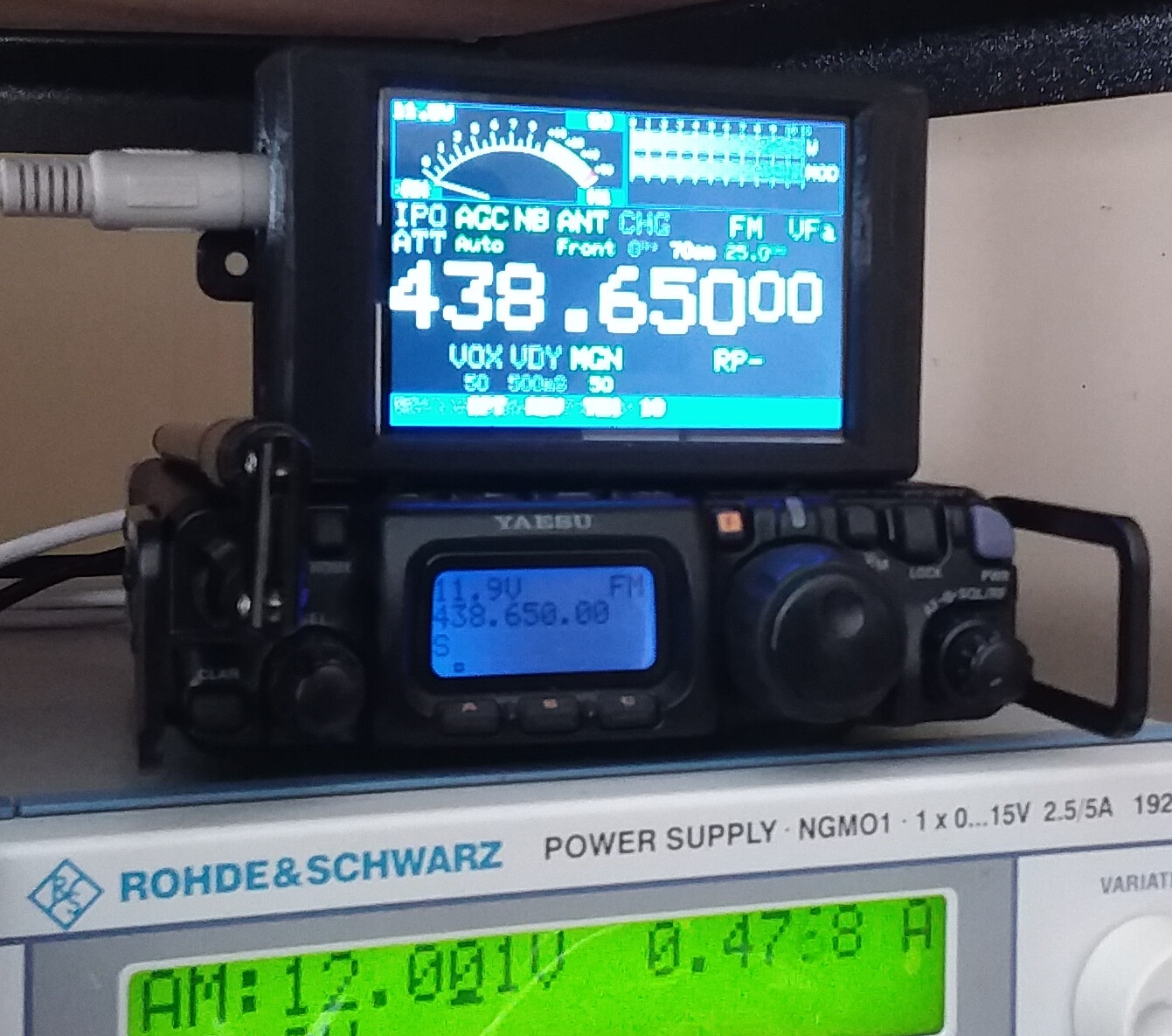 Description:
Note: There are large shipping delays due to border closures & reduced flights. All orders are shipped as soon as I can, in the order they are received. I appreciate your custom & patience. Click here to see video Aneasy to connect external display for Yaesu FT-817 & FT-817ND. *NEWFEATURES* LEFTor RIGHT cat cable entry HeadsUp Display mode so you can view via a reflective surface CatDisplayplugs into the transceiver CAT port. It reads data from thetransceiver, detects & decodes any changes then updates thedisplay. Asyou change modes, the CatDisplay changes the details shown. At aglance, you instantly see important settings for the current mode. Idealfor the visually impaired Light,easy to connect, easy to use Vastlyimproves your rig experience Makesa complicated transceiver easier to use Lesssearching through menus, less chance of forgetting Simpleplug-and-play installation, automatically detects Cat speed Idealfor rigs suffering from failing LCD - missing lines & segments Thisversion is for FT-817 transceivers that only have15 bands (models that do not have the 60m band). It will work onmodels that have the 60m band (FT-818ND) but as you move up the bandpast 40m, the reported band display is out by 1. Click here to seethe sixteen band version for FT-818ND which supports 60m. CatDisplayreads details from the transceiver only. It does not writeinfo to the transceiver and cannot be used to control thetransceiver. Unlike computer programs & other displays thatcontrol the transceiver, CatDisplay will not cause EEPROM wear andwill therefore not cause damage to the transceiver. Notes Doesnot have a CAT pass through port so you cannot plug another deviceinto the CatDisplay Transceivermust be in VFO mode to reliably read many settings CTCSS,DCS, memory tags, extended memory functions and other lessfrequently used features are not displayed Somechanges on the transceiver do not show up immediately because thetransceiver does not update its EEPROM immediately. This is afunction of Yaesu control program and not CatDisplay Doesnot show SWR, but does have high SWR indicator, output power &modulation meters Catcable has pins in its plugs & they only go in 1 way. Do notforce them or you will break the plug, socket or both TheTFT display is fragile and can be broken. Treat it with respect, donot place it in direct sunlight, do not squeeze or press on it HighRF fields may cause interference. If the display becomes corruptedduring transmit, this is likely due to high RF field which needs tobe remedied. The most common cause is poor earth connection, highantenna SWR or very close proximity to the antenna CatDisplayis a closed source © Copyright product designed, made and sold onlyby ZL1CVD Chris Day, Oamaru, New Zealand Counterfeitcopies sold by ON4NL L.G.Lefever in Belgium are a very early versionof CatDisplay hardware and firmware & will not be supported byme. The latest hardware is v1.441 and firmware is v2.xx TermsOf Sale Thissale is for 1 tested and assembled CatDisplay including 3D printedcase & 1.5m Cat cable. Does not include power supply ortransceiver. CatDisplayis very easy to install & a user guide is supplied. Thisis a technical product hand made by a hobbyist. Shipped in plainpackaging when payment has been received in full. Onlypayment method accept is PayPal. If payment has not cleared within 4days of auction closing, eBay will be informed the sale has not beencompleted & the goods will be re-listed. Shipping& Customs Standardshipping is via NZ Post (air mail) is NOT TRACKED, not insured, nosignature required service that may take weeks due to the pandemic. Customsexport declaration will be filled out as "Electronic Part" tothe value of the final sale price. It is up to you to deal with anyfees from your customs office or any other import duties, salestax, VAT, etc
Visit Our Partner Website
This listing was posted on another website. Click here to open:
Go to eBay
Important Safety Tips
Meet the seller in person and inspect items before paying.
Be cautious of underpriced offers.
Don't wire money or take advance payments.
Only pay for shipping if you know the seller.
To learn more, visit the Safety Center or click here to report this listing.